Latest News | 2 October 2014
Blog: Promised land is out there but empires can fall dramatical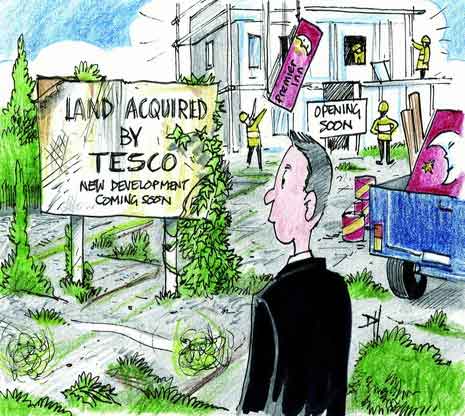 Readers of a certain age will remember the jingle that sang 'Whitbread, big head, trophy bitter, the pint that thinks it's a quart!'
I remember the advert being screened before ITV's Big Match on Sunday lunchtime – days when the advertising of alcohol was pretty liberal.
The Whitbread company fascinates me – a masterclass in corporate re-engineering used, I suspect, as a case study in business schools to illustrate how companies can transform themselves in the most remarkable ways.
A couple of things sparked my thinking: the shocking and sudden fall from grace of retailing behemoth, Tesco, and a busy building site in the centre of Derby.
More about Tesco later, but first, a little bit of history.
Having been started in 1742 in London's Spitalfields, by the 1980s Whitbread was one of the UK's largest brewers and pub owners.
Most people will have visited one of their sites and sampled their product – and I don't just mean Trophy Bitter.
Ever been to Pizza Hut or Beefeater, trained at David Lloyd or drank a Britvic? Then you have been a Whitbread customer.
By 2000, the clever people who ran the company sensed that the UK consumer was changing, evolving more sophisticated tastes.
The real ale revolution meant beer palates were becoming more bespoke. Pubs tied to corporate entities were becoming unloved and unprofitable.
The masters of Whitbread also felt globalisation offered an opportunity for growth. So, in 2001, they sold off their brewing empire and the following year disposed of their massive pub estate.
The company then divested their 'all-sorts' approach to brand ownership (bye-bye Pizza Hut, TGI Friday's and Britvic among others) and used the billions of pounds raised to focus on the new promised land of leisure and hospitality.
Ladies and gentlemen, let me introduce you to Whitbread's new stars, Premier Inn and Costa Coffee.
Today, pretty much from a standing start, Premier Inn is now the UK's largest hotel operator with 55,000 rooms and another 13,000 in its pipeline (118 of which are under construction on Full Street).
The growth of Costa is even more explosive. With almost 3,000 stores in over 30 countries, Costa overtook Starbucks in the UK some time ago and its global march seems set fair.
Last week, I sat in the Costa at St Peter's Cross in Derby, people watching and admiring the renewed public realm.
A few weeks before, I sat in a Costa in Phnom Penh in Cambodia, people watching and admiring the renewed public realm.
Employing 43,000 people, Whitbread is an undoubted success story, as was Tesco, that is, until very recently.
Tesco employs over 250,000 people and its growth over the past couple of decades has been phenomenal.
Following a strategy which might be best described as 'build big and grab market share off all incumbents', Tesco has been swooping whale-like, through development sites nationwide.
This has not been without controversy – while many communities might desire a Waitrose, Tesco attracts agitation and resistance, as witnessed in Belper. It might have been the shocking momentum of growth (fuelled by mega-land acquisitions) but Tesco has assumed a negative sobriquet… the Tesco effect.
In many respects, Derby missed out on much of this as Tesco's acquisitions, such as in Allenton, remain undeveloped.
It's never pretty to see a company stumble, especially when they employ so many people, but there has been much schadenfreude in its collapse in share price.
The warning is there for all, empires fall and businesses are most vulnerable when strongest.